BACK TO RESOURCES
blog
Alcatel Wins Great Explorer Award at Imagine 2017
< 1

Min Read
We are happy to share some exciting news from this year's Imagine conference in Las Vegas. Magento has named Corra client Alcatel the winner of Great Explorer Award for International Expansion!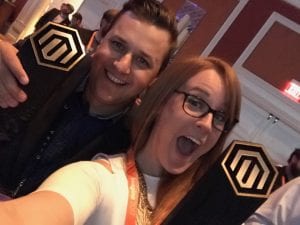 Alcatel, one of the world's top mobile phone providers, built their US and Canadian ecommerce sites with Corra as part of the Magento 2 Beta program. Then in 2016, the brand was ready to expand even further with a site for the Latin American market. Partnering again with Corra and international checkout provider GlobalShopex (GSX), Alcatel's new LATAM site supports two languages, and all South American currencies. You can read more about their story on Magento's customer page.
It's an honor to be recognized by the Magento community for this exciting international award. As Corra continues to expand as a Magento Global Elite partner, we are proud to represent our clients around the world. Congratulations once again to Alcatel on their continued success, and to the Corra team for helping to make it a reality.