As a fashion retailer, competition can be fierce in the ecommerce space – which made us wonder, how are the cream of the crop pulling it off? To find out what elements are helping the top 50 fashion ecommerce sites succeed, we conducted three pieces of research to gather insight into their website, SEO metrics, and audience. 
First, we had expert user experience (UX) strategist and Interaction Designer at Corra Jessica Stoilkovic audit a top ecommerce website and point out the pros and cons of the design, layout, and buying triggers. Next, we researched SEO stats to compare top sites based on traffic rates, referrals, and bounce rates. Then, we sought feedback from the piece of the puzzle that matters most: customers. We surveyed over 1,000 shoppers to find out what they really think about ecommerce sites.
With these three perspectives, we gathered insight about the elements that help leading ecommerce sites succeed and what elements you can recreate to find more success on your site. Continue reading to learn more.

PART ONE – THE EXPERT AUDIT

For the site audit, we asked UX expert and Interaction Designer at Corra.com Jessica Stoilkovic, to review leading fashion ecommerce website H&M.
She analyzed and commented on dozens of pages and site elements to highlight what H&M is doing right, what they are doing wrong, and what they could improve. The review starts at the homepage and ends at the checkout to portray the buyer's experience from start to finish.
In regard to the presentation, Stoilkovic describes what to look for:
"There are three prominent areas I'm looking at when auditing an ecommerce solution. 1. It generates trust and makes it easy to get support. 2. Strong categorization and search makes it easy to find products. 3. The checkout process is simple, short and without unnecessary distractions."
As you go through the site audit, use the comments to identify mistakes and opportunities for making improvements on your ecommerce website. The red comments indicate a critique suggestion for the site and the green comments point out what you should be doing on your site too.
Use the arrows to navigate through the presentation below.
PART 2 – WHAT DO CONSUMERS THINK?

For the second section of our research, we went directly to the perspectives that matter most. We asked over 1,000 customers to share the highs and lows of their experience with ecommerce websites.

INDUSTRIES THAT NAILED IT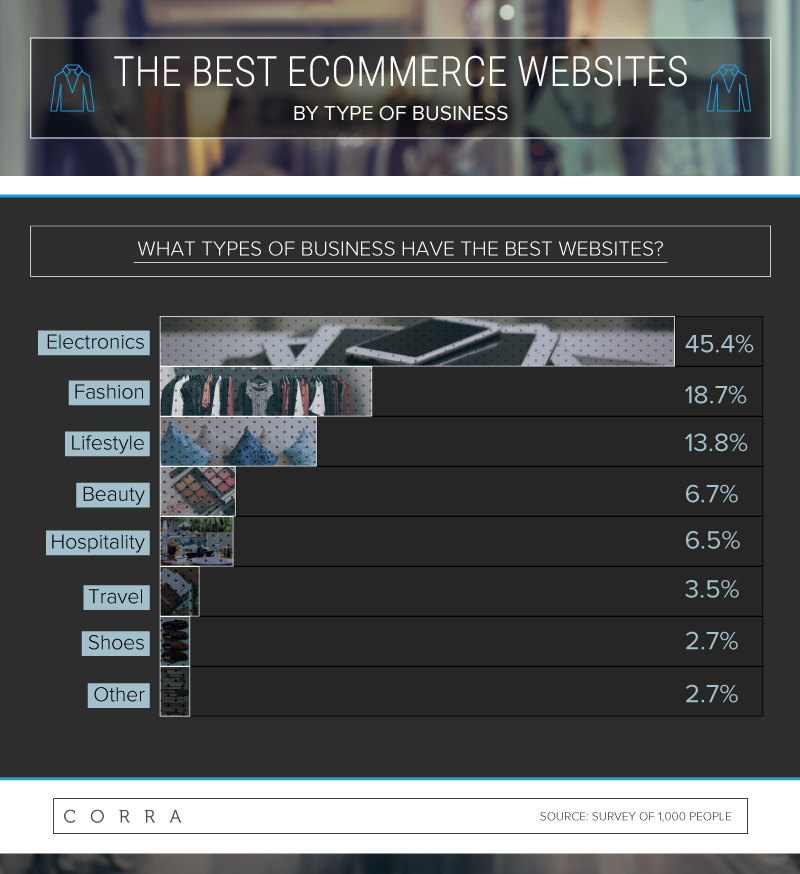 Customers have a strong preference when it comes to what industry they think has the best websites. Almost half (45%) said that electronic businesses have the best websites. Next, customers prefer fashion (19%) and lifestyle (14%).

WHAT BOTHERS CONSUMERS MOST?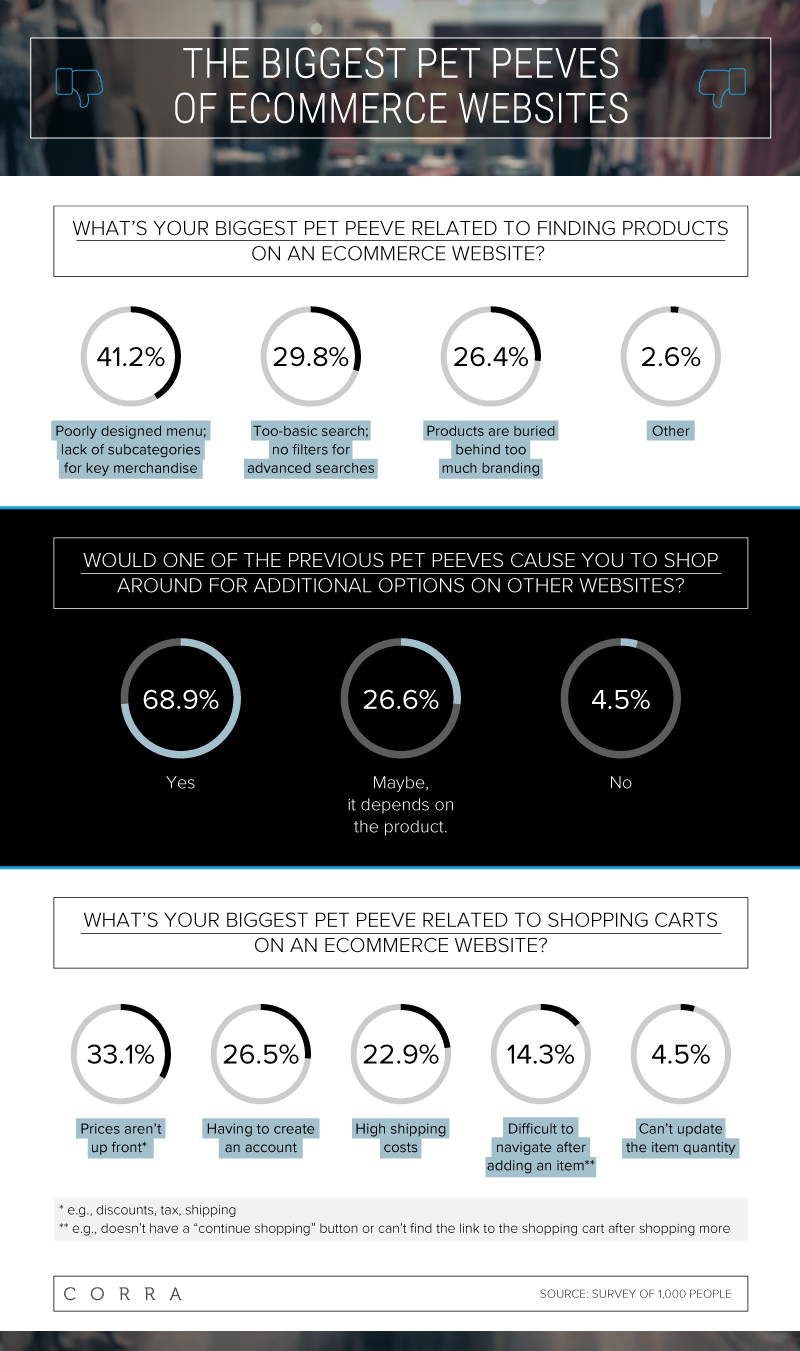 To ensure customers don't leave the page to find an alternative, ecommerce sites must address the main pet peeves that cause users to flee.Our findings highlighted the importance of addressing concerns online shoppers have with ecommerce websites. Nearly 30 percent of respondents said experiencing an annoyance on a website would cause them to shop on other websites.
Utilize a well-designed, organized main menu that includes categories for all key merchandise. Poorly designed menus that missed main product categories were a pet peeve for over 41 percent of participants.
Don't hide extra costs, such as tax and shipping. Thirty-three percent of survey respondents said not displaying prices upfront frustrated them during their purchase process.
Help your customers find what they want and need by providing advanced search features. Nearly 30 percent said one of their biggest pet peeves on an ecommerce site was the lack of advanced search features and search fields that were too basic.
Addressing issues that frequently annoy online shoppers can help keep users on the site and stop them from looking for options elsewhere.
Stoilkovic adds, "Forcing account creation when checking out is a big turnoff for customers, as registration tends to be associated with sharing of personal data and a barrage of marketing communications. It's an unnecessary obstacle to completing a purchase."

RESPOND TO CUSTOMERS AND MAINTAIN YOUR REPUTATION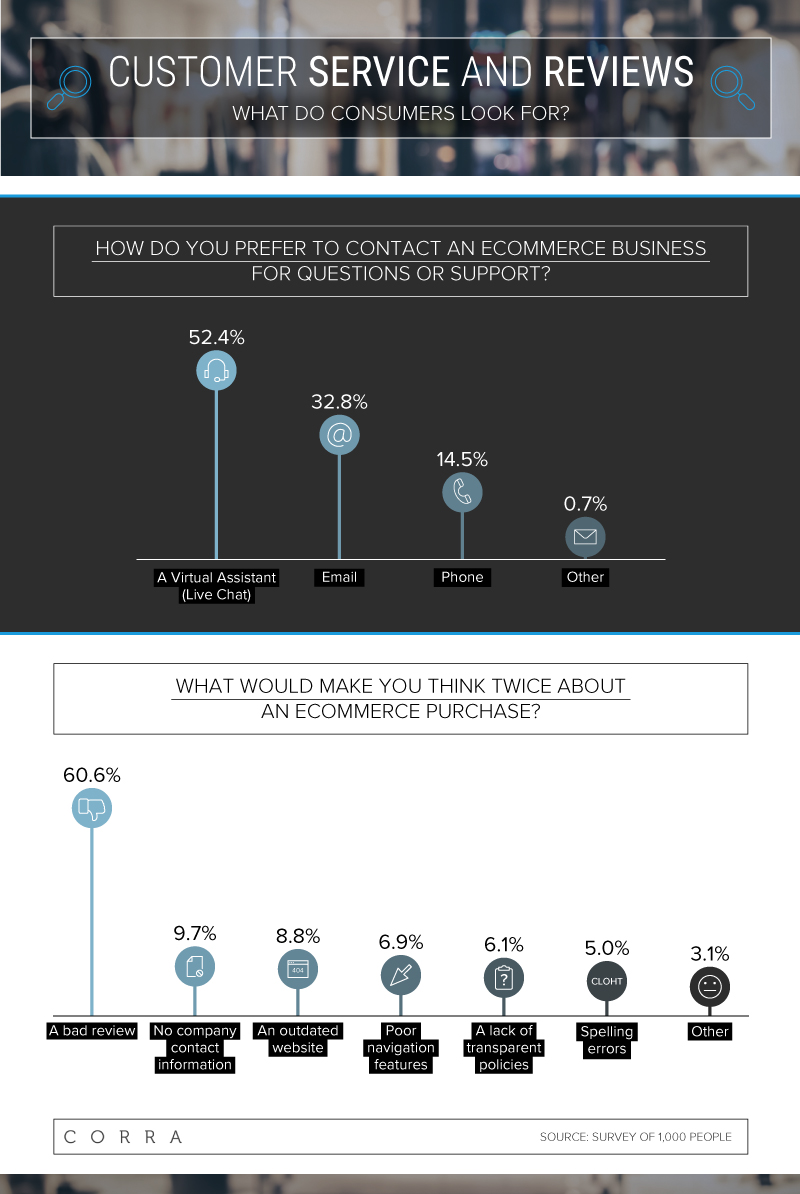 While online shopping is often an individual experience that involves one shopper engaging with a website, customers crave human connection in their ecommerce exchange. They want to hear from other customers, and they want access to live support should they need it.
A study from Mintel reported that 69 percent of Americans seek out advice and opinions on goods and services before purchasing. Customers want to see reviews on a website, and it's important the reviews they find are mostly positive.
More than 60 percent of survey respondents said a bad review would make them think twice about making a purchase from a website. This was, by far, the reason most likely to scare shoppers away from a website. Other reasons a shopper would abandon a purchase were: no company contact information (10 percent), an outdated website (9 percent), and poor navigation (7 percent).
Ecommerce websites must work to encourage happy customers to share their experiences, and they must provide excellent, live customer service that helps drive positive reviews. Our study revealed a majority of shoppers want live help via a virtual assistant or chat (52 percent) when they have a question or problem.
This data is a reminder that providing excellent service and products that result in positive reviews is still a tried-and-true way to keep and convert customers.

REACHING YOUR AUDIENCE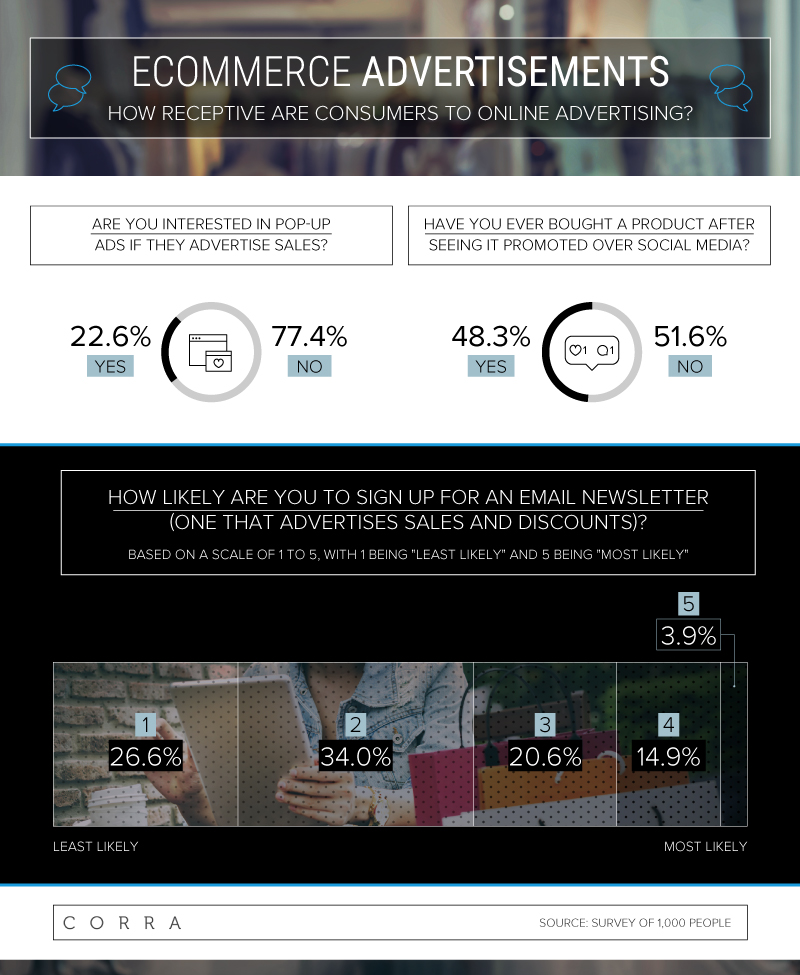 As customers adapt and evolve, so do the advertising methods that effectively capture their attention. When banner blindness began to prevent messages on websites from resonating strongly with shoppers, advertisers sought other ways to connect with shoppers. We used the survey to find out which new methods were effective.
It turns out, pop-up ads aren't the answer. More than 77 percent of respondents said they aren't interested in pop-up ads even if they advertise sales.
Customers weren't highly swayed by discounts and sales when it came to signing up for newsletters, either. Roughly 61 percent were not likely to trade their email address for a discount, while less than 4 percent were very likely to subscribe.
Interestingly, social media ads and promotions proved to be the most effective. About half of shoppers (52 percent) said they bought a product after seeing it promoted over social media. The data show social media promotions are more effective than highlighting sales and discounts through pop-up ads and email opt-in incentives.

PART 3 – THE SEO DATA

After looking closely at one particular ecommerce platform, we dug into the details of 50 leading fashion ecommerce websites and used Alexa, an SEO analytics company, to determine a list of the top 10 fashion ecommerce sites. We performed research on site analytics and SEO to gather insight about traffic drivers and customer habits.

WHERE DID THEY COME FROM AND WHERE DID THEY GO?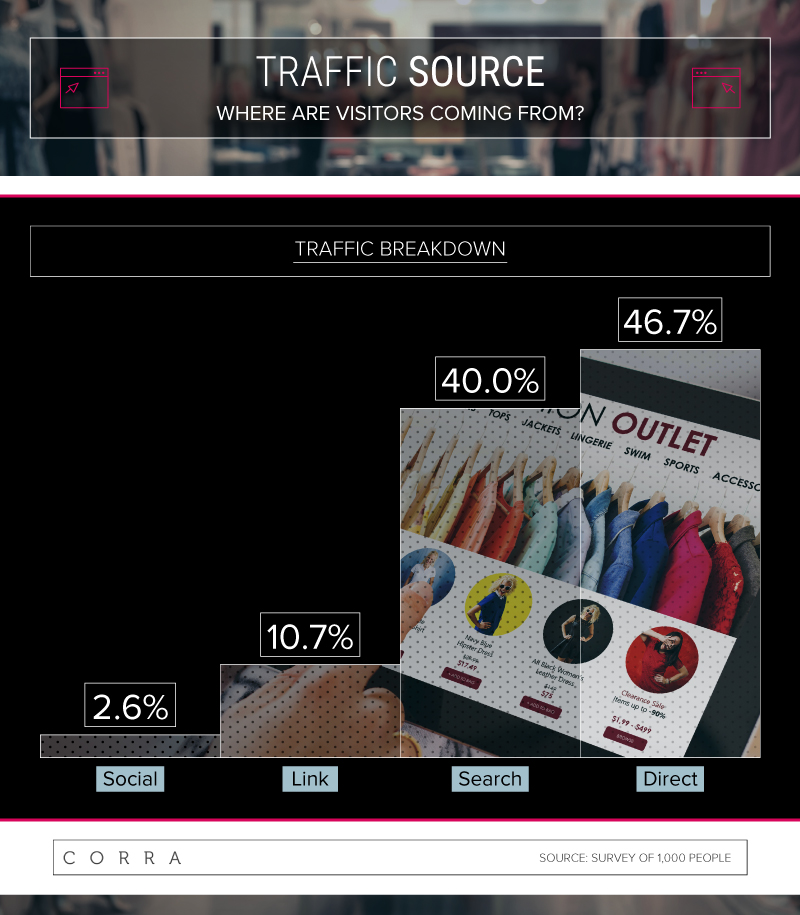 An overview of traffic sources for the top sites reveals direct traffic is the most powerful source for popular brands. Sites with a high visitor level received about half of their visitors (nearly 47 percent) via direct traffic.

A DEEPER DIVE INTO TOP FASHION RETAILERS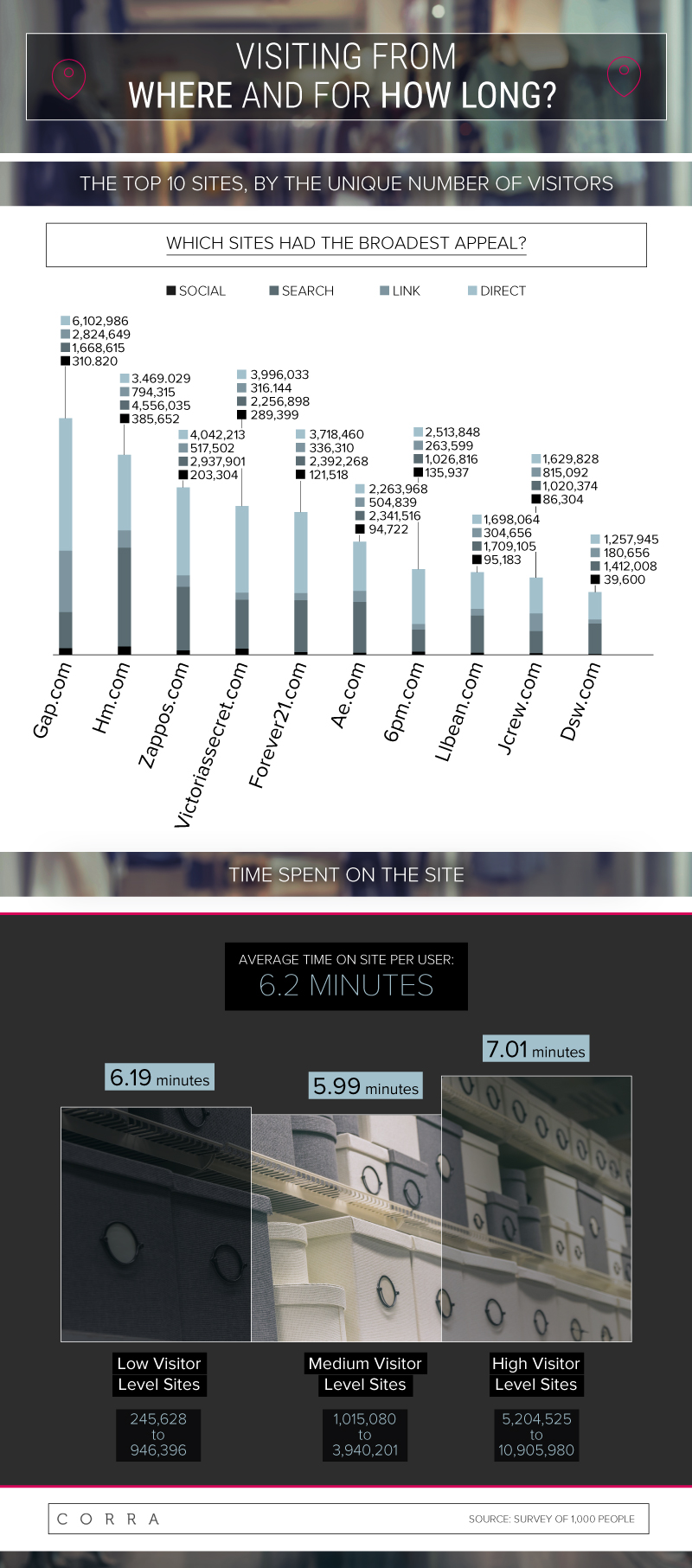 We found direct traffic was typically the most common traffic driver for the most popular platforms. This was especially true for the No. 1 site for unique monthly visitors, Gap.com, which received a majority of its users from direct traffic.
Social referral and link traffic were low for the sites in comparison to search and direct traffic, which shows that brand awareness and SEO are valuable assets for driving high volumes of traffic.
When visitors find top sites, they tend to stay for about six to seven minutes. We also found the most popular sites with the highest number of visitors were likely to keep users on the page longer than sites with fewer visitors.

BOUNCING IS A BAD THING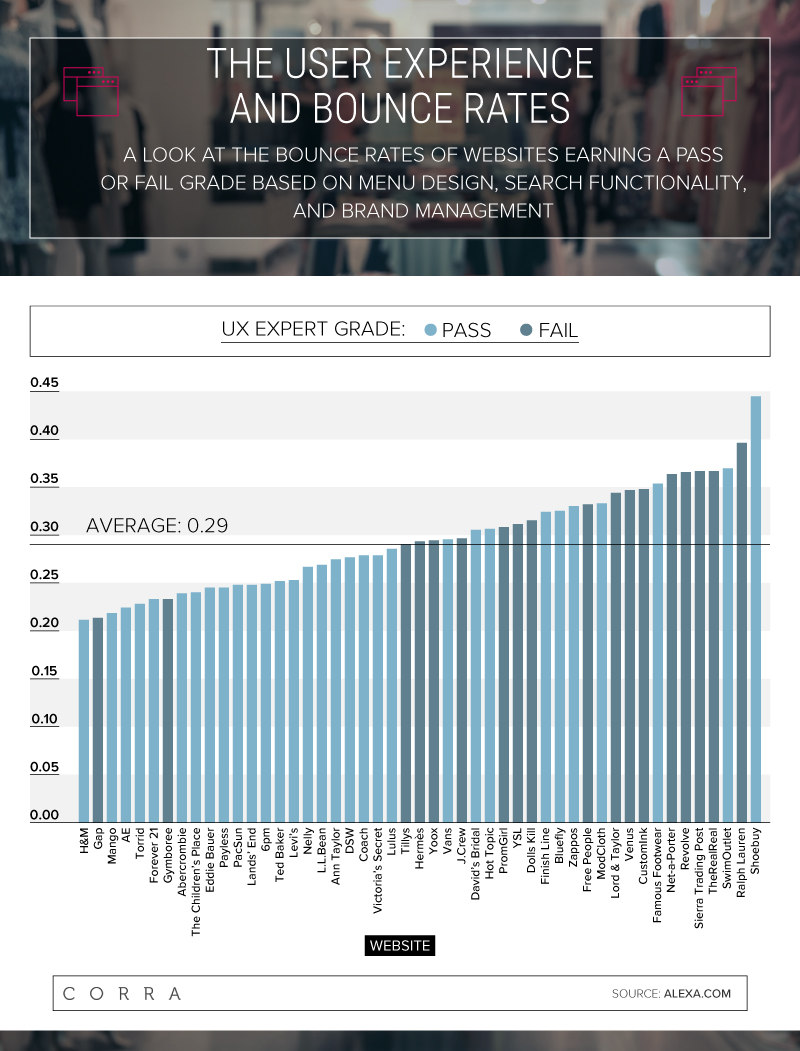 Since many of the top sites receive most of their traffic from direct traffic sources, it's no surprise those same sites have low bounce rates.
Shoppers of Hm.com, Gap.com, and Forever21.com know what site they want to go to and stay there when they arrive.
When we looked at bounce rates as they related to user experience, an interesting trend emerged. Websites guilty of the biggest consumer pet peeves (basic search options, poorly designed menus, and over-branding) had higher bounce rates. Only two websites that failed our audit, Gap and Gymboree, had lower than average bounce rates (however, lower bounce rates are better), while 16 other websites that failed had average or above average bounce rates.
So, how does bounce rate affect your site according to Jessica Stoilkovic?
"Brand awareness has a big impact on reducing bounce rate. If you're not a household name yet, ensure you clearly introduce your brand, your unique selling points, and establish trust with your visitors through being clear on your selling policies while providing easy routes to friendly support."

CONCLUSION

Digital shoppers have almost unlimited options when it comes to choosing ecommerce sites, and they use that latitude to their advantage.
Our research shows online customers actively seek out sites that provide the best experience, customer service, and price. They pay attention to true reviews and social media mentions, not pushy advertising tactics. They remember popular sites and positive experiences and often travel to these sites intentionally through direct traffic.
To compete in the ecommerce field, consider these findings and follow the examples of the leading fashion ecommerce sites. Utilize best practices as they relate to website layout, SEO, and presentation and strive to offer the best customer experience, deals, and prices in your industry to deliver the ecommerce experience digital shoppers demand.

METHODOLOGY

The presentation was created by Interaction Designer at Corra.com Jessica Stoilkovic. We used Alexa.com, an SEO analytics tool, to determine the top 50 fashion ecommerce sites. From there, we averaged the statistics of the top 50 sites for our SEO audit. Finally, we surveyed 1,000 people in the U.S. for their thoughts on online shopping.

FAIR USE STATEMENT

We created this content for you for noncommercial use, so feel free to share it with your audience. Please remember to link back to this page when doing so to offer credit to the author.