BACK TO RESOURCES
blog
Your 5-Minute-Guide to Headless Commerce
4

Min Read
What is Headless and why does it pertain to me?
Consider going 'Headless' as renovating your site's infrastructure; the frontend consumer-facing touchpoints (A.K.A. the 'head') is separated/removed from the backend operational systems. This no-strings-attached approach divides consumer-facing concerns from system-facing concerns, allowing for swift implementations of trendy new acquisition tactics such as subscription services or live streamed content. The headless model reduces the need to dive into the backend and get your hands dirty with every iteration of your ecommerce strategy.
Who's a candidate for Headless?
Headless is for merchants who favor flexibility, agility and the freedom to adopt the latest technologies in commerce. A marriage between their front and backend is just too much commitment for them; they like options. Like true omnichannelists, they're open to experimenting with new acquisition channels such as Voice Assistants (Alexa, Google Home, etc.), Smartwatch Apps, Smart TV, the opportunities are limitless.
If you're a traditionalist, with non-headless CMS architecture, your front and backend are coupled, meaning it's difficult to effect change without running that change through the other, which is less efficient, more costly, and invites potential risks.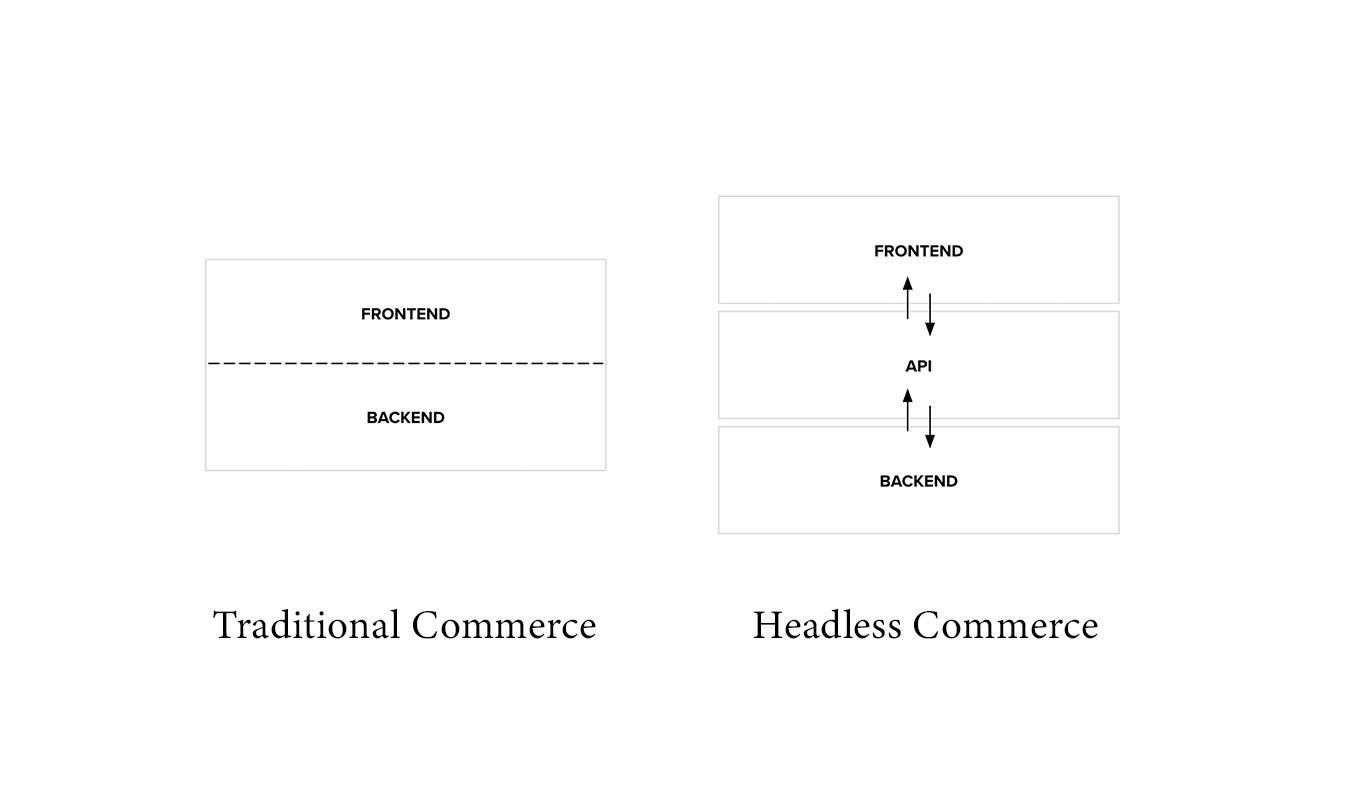 How can going Headless increase my revenue?
We know what you're thinking: how will Headless affect my bottom line? If you're looking to stay competitive in the commerce space by reducing your time to market and the cost/time frame of every new integration to your site, Headless is an option you should explore.
It's crucial that your frontend is built to be dynamic and easy to update, catering to evolving customer demands. If your CX isn't up to par, visitors may go elsewhere. Say your target consumer happens to be a restless Gen Z and your data shows they convert like crazy with an interactive/experiential commerce experience, complete with sound effects and animation like so, you'll be able to deliver this without the costly headache of running the changes through the backend and subjecting yourself to a whole drawn out process.   
Another advantage of a decoupled solution is that marketers will more easily be able to conduct experiments on their consumer-facing content layer without getting full stack developers involved. Experimentation is essential to innovation. It's also how marketers and ecommerce specialists tap into the preferences and nuances of their target demographic to hone in on what they want, don't want, and get to know their 'love language.' Enabling your teams to experiment extensively will ultimately lead to the discovery of revenue driving tactics and implementations.
What are Progressive Web Apps? (asking for a friend)
By 'going Headless' you'll be able to embrace another technology trend that's been all the rage lately (it was a hot topic at Imagine). PWAs or Progressive Web Apps are websites that resemble and behave like a mobile app (with optimal user experience) but without requiring you to take an annoying detour to the app store to download.
A PWA storefront lives on a decoupled architecture and boasts higher performance than its more traditional counterparts. Visitors interacting with a PWA experience faster load times of over 50% (measured on Forbes and The Weather Channel). Why is this so important? We thought you'd never ask. There is a very clear correlation between page speed and conversion rate, as illustrated in our Imagine Recap. Corra already provides page speed enhancements to our clients and now we're thrilled to announce a PWA offering that is currently in the works.
Why Corra's embracing Headless/PWAs?
Modern times call for modern architecture. Corra believes the future of commerce is headless. The industry is ever-changing and merchants feel the pressure to stay agile to satisfy fluctuating customer demands. We understand this and are continuously looking for new ways to address these concerns.
Enter our new Headless initiatives! One being our PWA storefront. Corra is actively creating a unique PWA storefront designed specifically with the demographic of lifestyle brands in mind. Our storefront will be developed to work with the Magento PWA studio and various other PWA technologies. We have an impressive team of engineers dedicated to headless exploration and innovating in this new platform model.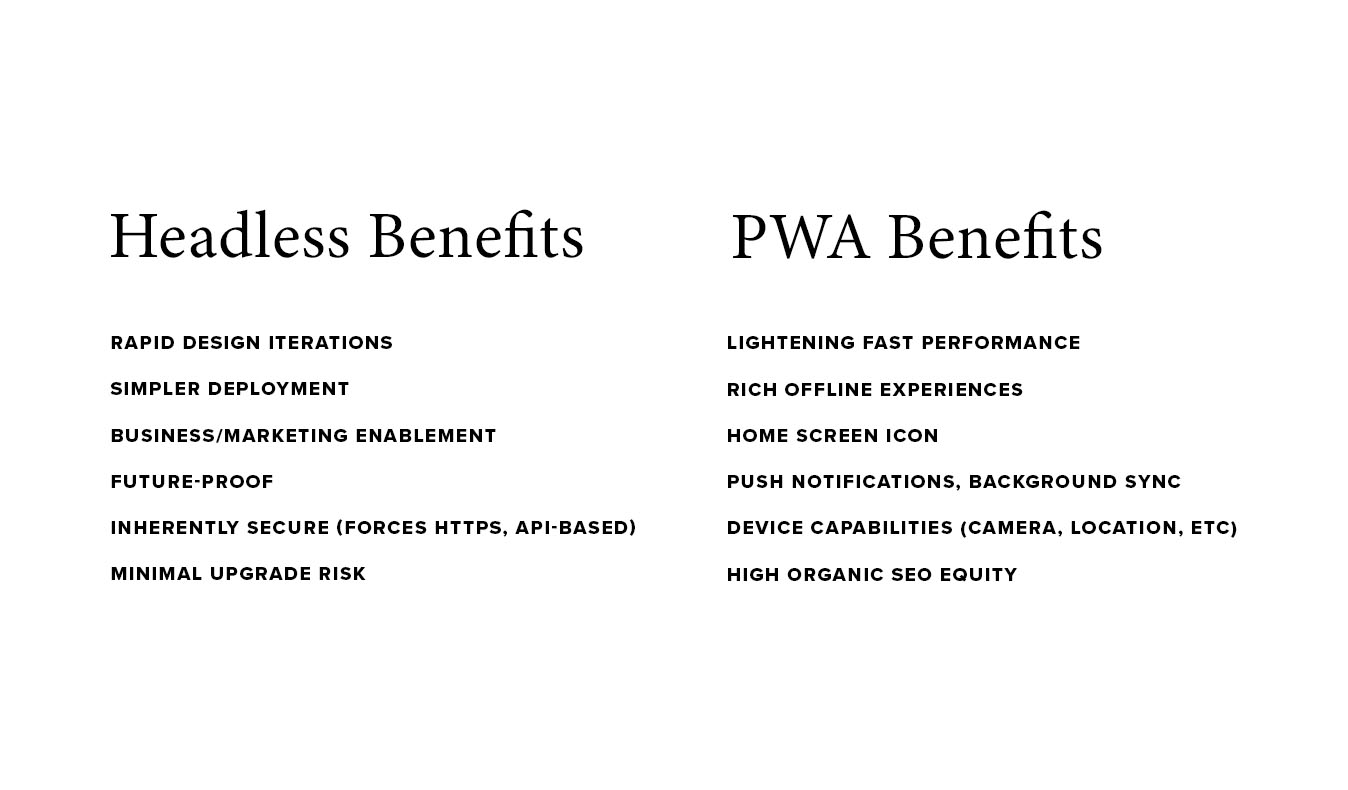 Tell me more…
Headless is for everybody. It doesn't matter if you're a small sized company with a content heavy site that requires consistent iteration or a larger corporation on the forefront of innovation, Headless is Corra's recommended approach for both parties.
Next Steps
If your frontend is currently coupled with your backend, and you want freedom, flexibility and the option to integrate new acquisition channels with ease, reach out to Corra. Get in touch if you'd like more information. In the meantime, stay a little while, browse our case studies or check out more insightful blog content here.