BACK TO RESOURCES
blog
Corra's Most Innovative Launch yet: Announcing LifeLines, Melissa and Doug's New Venture
5

Min Read
You may recognize our clients Melissa and Doug Bernstein from their namesake toy empire that's home to more than 5,000 top-selling puzzles, books, arts and crafts, games, and more. ABC News' Good Morning America even deemed them "in the same league as toy titans Mattel and Lego."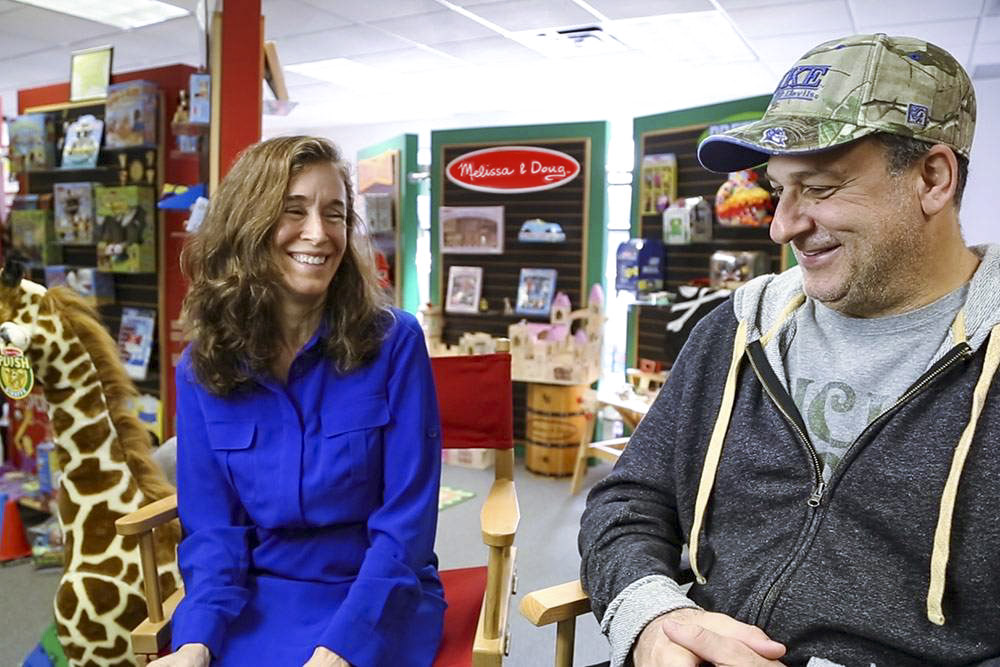 But unbeknownst to the world, during the Bernsteins' time at the helm of this beloved toy brand, Melissa was living with a secret: she was suffering from a lifelong battle with existential depression and anxiety. After sharing her personal story on a podcast and being overwhelmed by the responses, Melissa realized how many others were battling the same afflictions. She was not alone.
Now, with Doug by her side, Melissa is channeling her creativity toward a new mission: helping others who suffer through similar debilitating conditions and ensuring that they too never feel alone. 
With the same spirit, imagination, and ingenuity that designed thousands of toys over the last three decades, Melissa conceived of LifeLines.com, a digital ecosystem that is immersive, experiential, content-rich, and community-driven. It's an extension of her book, LifeLines: An Inspirational Journey from Profound Darkness to Radiant Light, which she calls her life's work and truest depiction of herself. 
HERE'S WHERE CORRA COMES IN…
When Melissa and Doug approached Corra in September of 2020, they had a manuscript of the LifeLines book and a vision. The team already met with over 20-30 other agencies in their pursuit to find the right partner. So, once we landed the project, the most significant challenge was the five month timeline. The Corra team had to build the LifeLines brand, business model, and user experience strategy from the ground up. And launch a digital ecosystem that is unlike anything that has ever been done before. We developed the LifeLines brand identity, logo, defined the content strategy, provided extensive copywriting services, and designed the UI and UX of the site in time for the February 15th launch date.
"

The first time we all saw the homepage design we got goosebumps. I know I was brought to tears.

 

Melissa Bernstein, Founder, LifeLines 
The homepage is designed to feel like you're immersed in nature – a calming cinemagraph of a vibrant forest with lush greenery. As the visitor scrolls, they are followed by a solitary autumn leaf cascading down the page – symbolizing the release of painful memories or destructive patterns.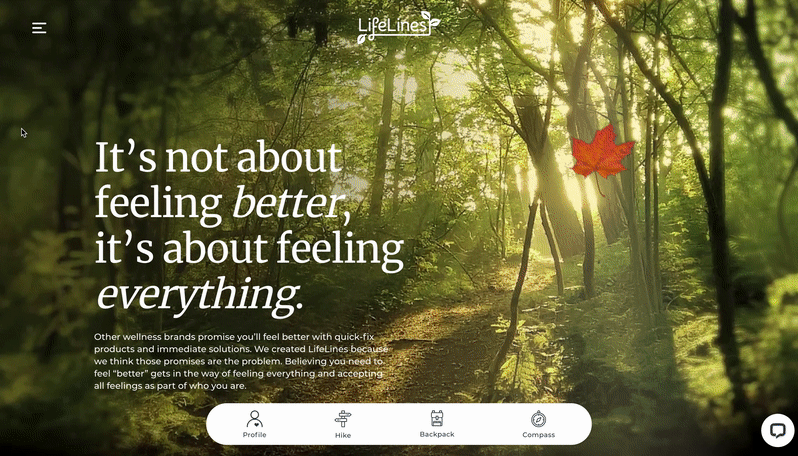 A JOURNEY TO INNER SPACE
On the LifeLines site, visitors (known as Seekers) are invited to embark on a metaphorical Hike,  to journey inward and get to know their true selves. Seekers have access to a Mood Compass to track their moods and identify patterns and triggers over time. They can even customize the compass to their own unique spectrum of emotions.
"

Corra really demonstrated to us throughout this entire time working together that they are the ultimate partner… if you want to create something that's truly new, that's truly different, that's going to push the bounds, and that's going to be non-conventional. 

 

Doug Bernstein, Founder, LifeLines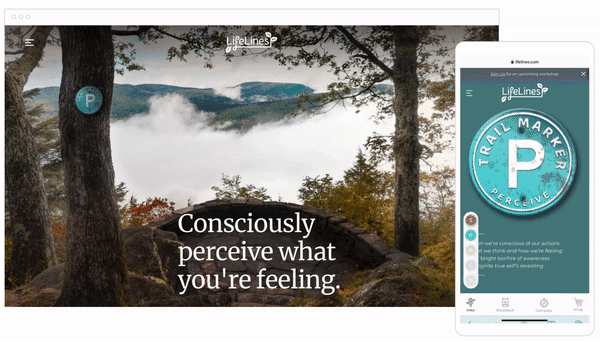 There is also a Backpack where Seekers can save trail teachings, wisdom, insights, quizzes, and exercises they've come across along the way.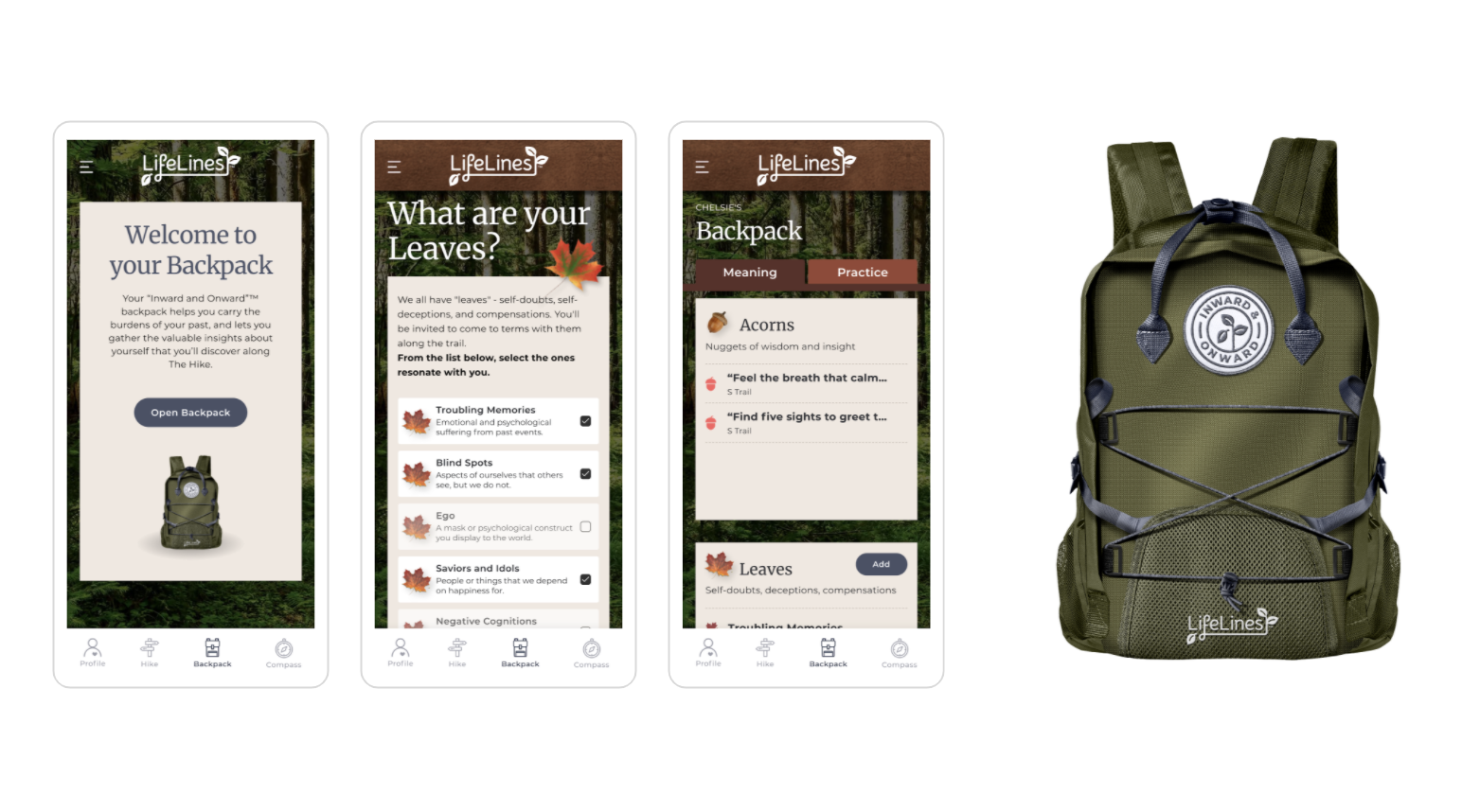 The goals for the LifeLines site are both non-traditional and extraordinarily ambitious. Melissa and Doug want to guide people along their path to accept themselves for who they are. Seeking external validation can often derail self-discovery, hinder authenticity, and create emotional unrest. They believe self-acceptance can only be found within. "It's not about feeling "better" it's about feeling everything and accepting all feelings as a part of who you are." LifeLines aims to reimagine how we approach wellness. In other words, they want to change the world. 
HEADLESS PWA: A FUTURE-PROOF TECHNOLOGY SOLUTION 
What kind of technology framework does Corra recommend for a client who wants to change the world? A headless architecture where the front end runs independently from the back end, giving brands the flexibility to explore emerging technologies. It's for visionaries like LifeLines who view every channel or IoT device as a potential arena for their brand. 
The site also needed to be designed first and foremost for mobile – in order to reach their community of Seekers anywhere and everywhere, not just in front of a desktop screen. An app-like experience that was discoverable via any search engine or browser was a must. Joining LifeLines also needed to be as user-friendly and welcoming as possible – we wanted to minimize the barrier to entry, so requiring users to download an app was out of the question. 
Our solution was undeniably a PWA (Progressive Web App) – a development approach that leverages a combination of technologies to merge mobile-first web experiences with app-like capabilities. Because PWAs pre-cache parts of the site, the result is a super-fast experience translating to engaged visitors and better SEO rankings. 
If you're considering Magento, Corra offers FWRD, a full PWA accelerator built to easily integrate with Magento Commerce Cloud. FWRD's plug-and-play features allow us to cut costs, go to market faster, and scale the productivity of content teams by relying less on developers. 
"

We've believed in Corra every step of the way. And we knew we wanted to do this right. Corra recommended Magento as the best long-term solution for scalability and future growth. And it has worked out amazingly well.

 

Doug Bernstein, Founder, LifeLines 
Learn more about PWAs in these videos: 
Progressive Web Apps Explained in 3 Minutes
Corra is proud of what we were able to achieve alongside Melissa and Doug Bernstein and the LifeLines team. But we also know the initial launch is just scratching the surface of what this brand has the potential to accomplish.
Visit LifeLines.com to view the site and sign up to enjoy the full suite of free features and functionalities that Corra brought to life. 
Interested in hearing the founders discuss the LifeLines creative journey firsthand? Join Corra's session at Adobe Summit 2021: Designing a One-of-a-Kind PWA Site With Melissa and Doug, (Session S873) on April 28th at 3pm PST. Mark your calendars! We hope to see you there. In the meantime you can follow Corra on Linkedin for updates.