BACK TO RESOURCES
blog
"Brick and Mobile" Commerce
3

Min Read
Day Three of 2015 eTail West was as inspiring as the first two. Personalization of the shopping experience, removing friction, and in-store mobile usage were common themes today, as well as an understanding of online consumer behavior.
In particular, we heard a great presentation from David R. Bell—Marketing Guru, Ecommerce Expert, Author, and Wharton Professor—who spoke about how the real world influences people's searching, shopping and selling habits in the virtual world (for example, Warby Parker's retail spaces leverage the comfort of real-life shopping to encourage online ordering).
The executive presentation from Chris Curtin, Visa's Chief Brand and Innovation Officer, got a considerable amount of attention as well. His speech on the disruption of life through payments spurred active discussions among attendees about the future of payments in ecommerce and beyond.
Below are are some more hot takeaways from the day:

Top Insights from the Keynote Executive Presentation:
In 2015, Americans spend an average 15.5 hours a day consuming digital media.
Americans see an average of 29,000 marketing messages a day.
It takes an average customer 3 minutes to fill out all the fields for each ecommerce transaction.
"Our job – on the payments side – is not just to make that faster. Our job is to imbue that click, that Purchase Now button, with so much speed and convenience that customers look for it. "

#Overheard at eTail West:
"36 cents of every dollar spent is driven by digital. … Target is focused on 'Bricks and Mobile.'"
—Jamil Ghani, Vice President Enterprise Strategy, Target

(Heard at the Defining the New Retail Experience – Stores and Mobile keynote. Target indicated that guests using its mobile application while shopping in a bricks-and-mortar store spend more than those that do not.)

Photos from Day Three:

Top Tweets: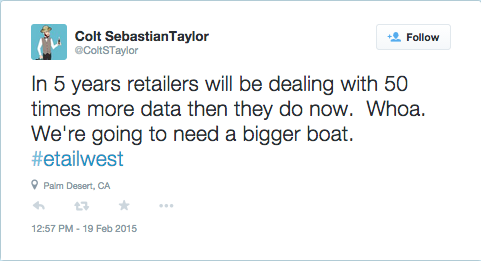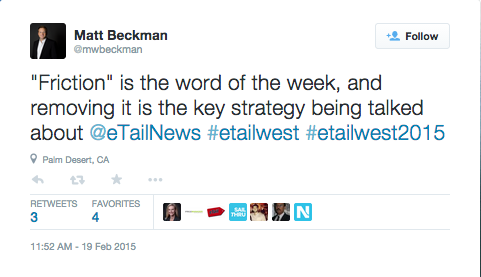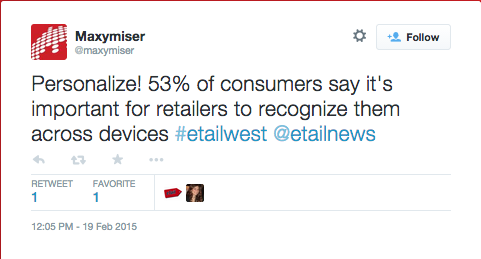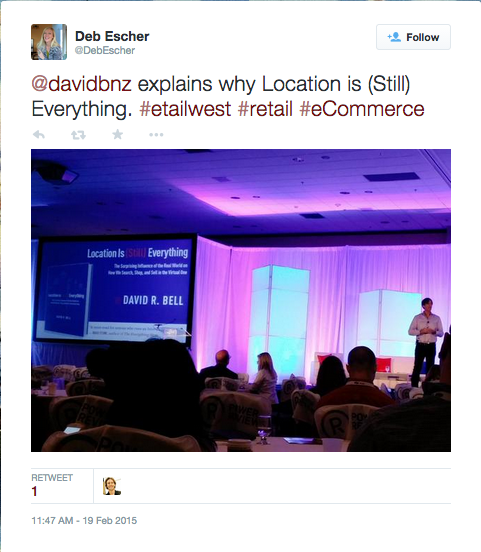 ____________
Sasha Butkovich is Marketing Copywriter at Corra, a New York and Los Angeles based digital agency that provides high-performing ecommerce solutions for fashion, lifestyle and beauty brands and retailers. With a team of 100+ ecommerce strategy, design and technology professionals, Corra delivers rich shopping and buying experiences across all channels and devices. Corra is trusted by retailers of all sizes to implement and support Magento Enterprise, Demandware and hybris platforms.