Optimization and Personalization: the Realistic Way to Put Your Customer First
| By: Albert Liu
Take a moment to consider your homepage. Why is a piece of content where it is? What's the rationale behind the navigation panel design, the supporting image, the headline? Why are the social media buttons where they are?
If you answered something along the lines of "Through extensive testing, we have found that this combination of content and commerce on the homepage will drive more customer engagement," you're probably considered something of an optimization rockstar around the office.
If not, you might want to take a step back and think about the advantages of optimization and personalization. You wouldn't run a restaurant with only one menu that never changes and doesn't allow for any modifications or substitutions. So just like restaurants trying to cater to each customer's individual taste, online retailers should optimize their site to give visitors an immersive, individualized experience.
Testing with the customer in mind
There is often a disconnect between what we think we know, and what is actually true. Interesting studies proved that people are seldom right when it comes to guessing the numbers behind the news. They also overestimate the amount they'll use their gym membership by 70 percent, underestimate their retirement savings needs, and are poor at perceiving friendship reciprocity.
The conflict between perception and reality becomes particularly challenging when your job is to attract and engage customers, but you spend all of your time living, breathing, and bleeding your own site. For example, it's not uncommon for ecommerce managers and marketers to get too far into the weeds. They spend so much time synchronizing content, digital marketing, and merchandising initiatives that they often get trapped in their own bubble, losing focus on the customer's actual needs.
Don't worry, though. If you feel you're still not offering a tailored experience to your audience, you are not alone. Even a giant like Instagram is struggling to find a compromise between developing a profitable algorithmic-based feed and taking into account the criticism coming from its end users.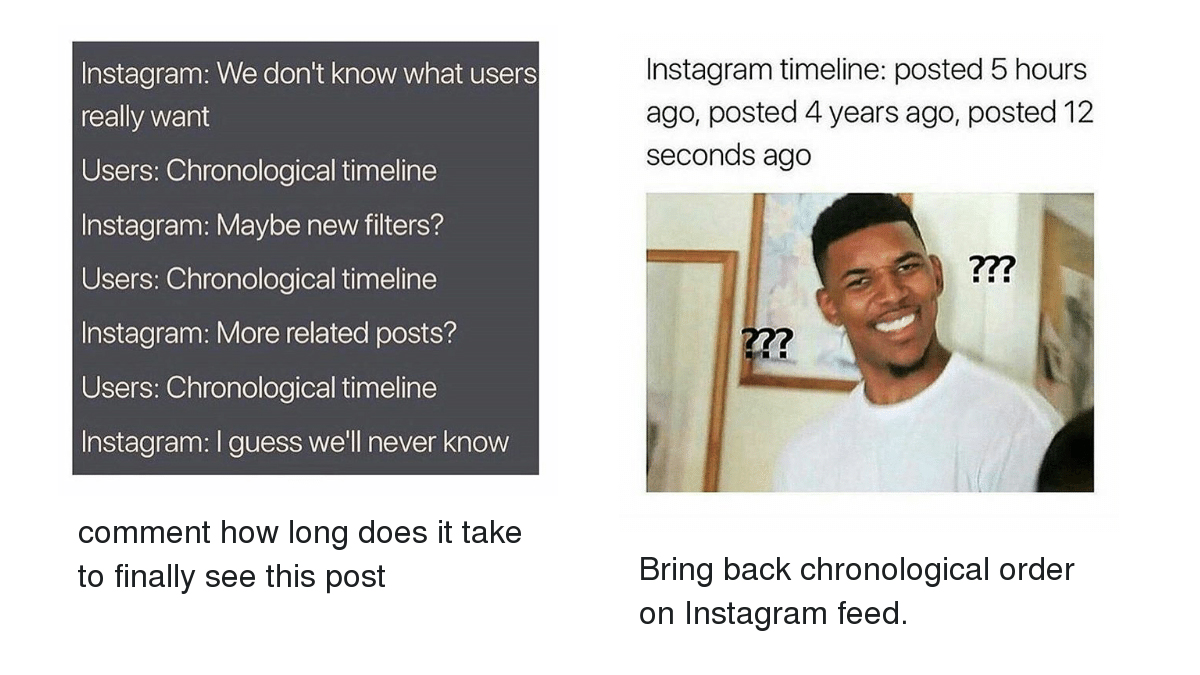 If, on the other hand, you are wondering whether or not 1:1 personalized experiences are a realistic possibility, the short answer is yes. Done right, personalization delivers engaging messages that are tuned to each consumer profile, anticipating what he or she wants. Results speak for themselves. Done right, personalization can lift revenues by 5 to 15 percent, and increase the efficiency of marketing spend by 10 to 30 percent. Recently, the Optimization, Personalization, and Data Analytics team at Corra has helped UntuckIt, the retail brand known for its signature men's shirts, increase its conversion rate by 7% in only 12 days, simply by testing a simplified layout on index pages.
Start with qualitative data
In order to have a full picture of your customers' needs, all it takes is asking them what they care about when making their buying decisions.
At Corra, we conduct primary UX testing to start the UI assessment process by listening to the end user. Unbiased UX research is accomplished through a variety of methods, but mainly through the observation of users that fit the specific profile a brand is targeting (demographic, gender, interests, income, etc.). Participants are asked clear, open-ended questions focused on different functionalities of the site, for example:
Roll your mouse over "New", "Women", "Men", "Kids", and "Sale" and look at the menu for each. Is this what you'd expect to find under each of these options?

Without clicking anything, please look at the main navigation. What is your first impression? Are all the navigation titles clear?

Based on what you've seen, would you want to purchase clothing from this brand?
This methodology can be applied to the current site experience, the current experience compared to a new experience, or different variations of the new experience. It empowers retailers with the ability to uncover the "why" behind every interaction, leading to improved experiences that deliver greater brand loyalty.
Beyond Yoga used this process to validate their new taxonomy and navigation approach. Through UX research, we determined that the best way to elevate the brand and communicate their body positive manifesto was to divide the primary navigation into two components – the shopping experience and the brand storytelling experience. This strategy, part of a broader effort to define a clear identity through design, contributed to the retailer's increasing success: on Cyber Monday 2017, Beyond Yoga achieved a 103 percent revenue increase and a 138 percent conversion rate increase compared to the previous year.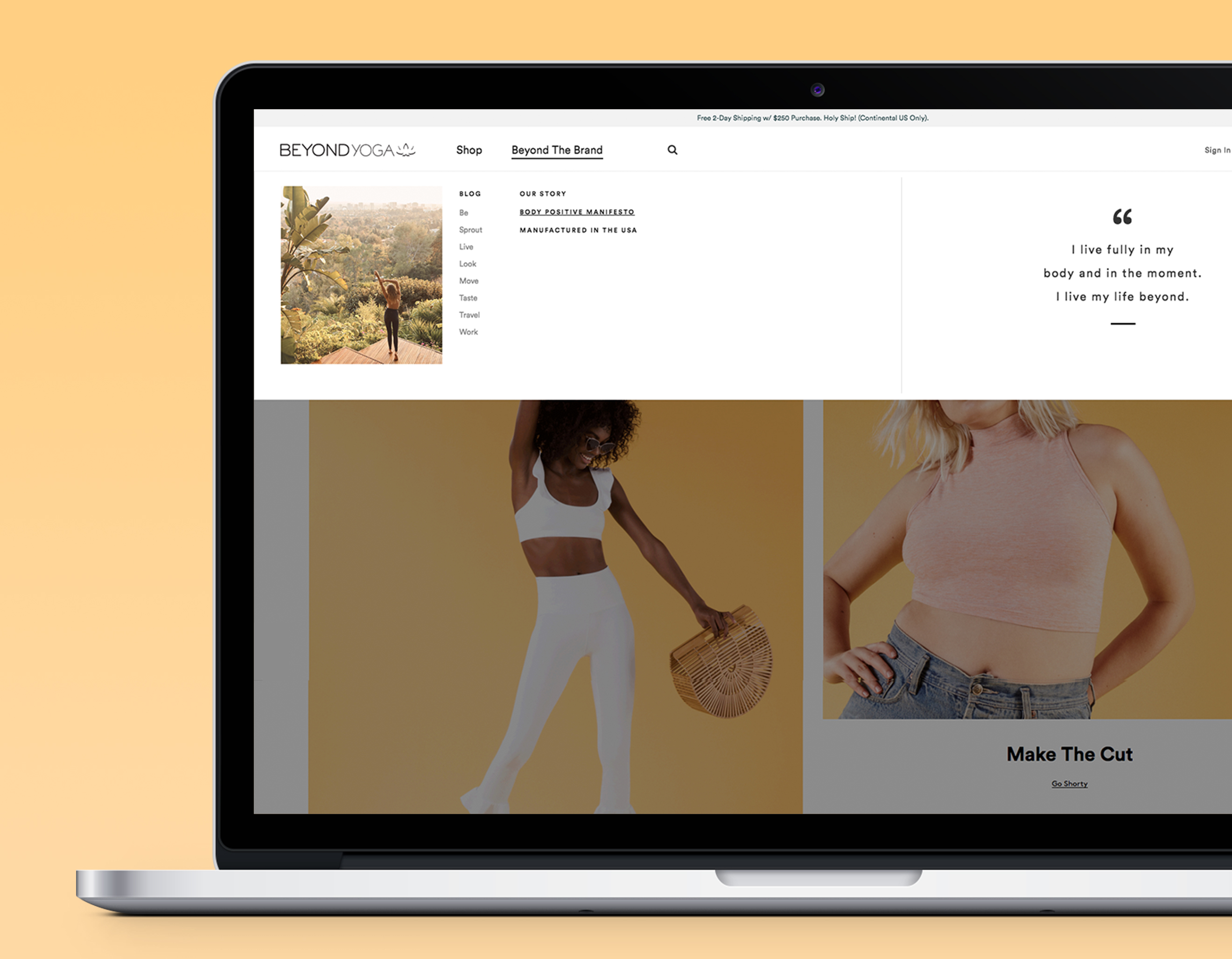 If you are interested in exploring new ways to connect with your customers, tools like Usertesting and Hotjar can help you build a high-level overview of your users' expectations, motivations, and desires.  
Optimization and personalization put the customer first. For real.
Establishing and executing on a personalization strategy is always important, whether you're enhancing your site or going through a full redesign.
Many integrations such as Dynamic Yield, Monetate, and Nosto are vital when it comes to implementing successful personalization tactics. Optimization is the first step: through A/B and multivariate testing, you can compare different versions of the website back to back, and in real time randomly test different versions out on on-site visitors to see which version yields the highest conversion rates.
Taking this concept a step further, you can easily segment these tests and measure how different concepts and designs affect different groups of visitors, such as return shoppers, promotional shoppers, casual shoppers, and site loyalists. Even small refinements can lead to conspicuous results. Through personalized signup offers implemented by the Corra team, skincare brand Mustela enticed high-value visitors and increased their Loyalty Program signups by 45%.
You can even further segment visitors down to new versus returning, then by traffic type. People aren't on Instagram or Facebook looking to buy, but when they search for "yoga leggings petite size" on Google and click on a PPC ad, they are undoubtedly in need of a new pair of leggings. In this case, personalization allows to deliver a personalized experience depending on the mindset customers have when they land on your product listing page.
Crafting personalized experience and testing against these groups can empower you with new, unexpected insights. At Corra, we combine a variety of optimization, recommendation, and personalization tactics to find the best performing solutions. If you are interested in learning more about our approach, contact us today.
---
Corra is the global digital agency that fashion, beauty, and lifestyle brands trust to create luxury commerce experiences. With headquarters in the key markets of New York, Los Angeles, and London, Corra provides innovative solutions at the intersection of technology, creativity, and strategy.