How SAP Commerce Cloud is Tackling the Top Challenges in the Fashion and Apparel Industry
| By: Erica Mazzucato
Consumers are increasingly expecting a relationship with brands that goes beyond the merely transactional. They are getting used to a personalized experience across channels, and demand instant and easy access not only to merchandise, but also to the content that facilitates their purchase decisions.
In the last two years alone, searches for "best" product have grown 80 percent, which is indicative of how consumers are prioritizing quality over price and looking for a greater form of engagement. They want to be knowledgeable about the features of the items they are exploring, become deeply familiar with brands, and use any number of purchasing options.
In addition, leading retailers are rethinking the dynamics of in-store purchasing, exploring "retail-tainment", and concentrating investments in a few immersive physical flagships, rather than simply expanding their brick-and-mortar network. Retail chains "will increasingly rely upon some very emblematic or even delirious stores in the busiest shopping areas of big cities, whose halo effect will benefit the brand's activities overall," retail expert Yves Marin told Business of Fashion. "They will keep their smaller formats for local interaction with customers as, for example, pick up or return of online orders."
With these emerging customer trends, there is real opportunity. The question is: how should retailers prepare for ever-evolving customer expectations?
As commerce technology continues to advance at a blistering pace, smart apparel brands are redefining their ecommerce strategy to keep up with customer demands. The desire for a deeper connection between brands, customers, and products is encouraging merchants to increase the flexibility of their ecommerce ecosystem in order to stay competitive and cater to the needs of all customers, including international consumers.
For many of these companies, leveraging SAP Commerce Cloud (previously SAP Hybris) to build a unified customer experience across all touchpoints is a fundamental source of their success. In fact, 18 of the top 20 global apparel and footwear retailers run SAP solutions.
For the story behind this number, we'll look at three of the most common problems online fashion retailers face, and how SAP Commerce Cloud offers solutions to these issues.
1. Deliver a unique experience across all customer touch points
When a recent Gartner survey asked merchants what their top technology-driven strategy for the next 18 months would be, the top response (54 percent of respondents) was that it would involve expanding their omnichannel initiatives. But what does that mean?
Like so many ecommerce buzzwords, the term "omnichannel" has a different meaning depending on who adopts it. What does your omnichannel strategy offer to the end consumer? Can shoppers buy online and pick up in-store? Can they return in store? Can they exercise loyalty points both in store and online? Can they find your products in their favorite location, whether it is a department store, branded boutique, or Amazon? Whatever the answer, ask yourself, how do your customers want to shop? Regardless, SAP Commerce Cloud provides the functionality you're looking for, meaning your customers have the flexibility to purchase how they want.
How SAP Commerce Cloud utilizes omnichannel technology
SAP Commerce Cloud has simplified the approach to integrating all of a merchant's selling channels into a single platform. A centralized platform allows retailers to provide a consistent experience where all channels work together to provide a harmonious journey for the customer.

For example, by integrating physical and digital shopping experiences, SAP Commerce Cloud allows customers to see stock availability across all channels in real time. Its order management and fulfillment functionality provides a single, easy view of inventory across online/in-store and ability to define stock, sourcing and allocation rules. Whether you're B2C, B2B, or B2B2C, SAP Commerce Cloud has the architecture to handle high volumes of data, traffic, and orders, and offers easy-to-use tools to manage and promote your products and content for all of your channels.
Omnichannel strategies in action
So, what does it look like when brands implement omnichannel strategies through SAP Commerce Cloud?
Two major footwear giants, The ALDO Group and the Brazilian company Arezzo, had problems with their sites.
For the ALDO Group, their inventory was constantly off, numbers were inaccurate, and there was a glaring lack of flexibility when it came to customer experience. The site of this world leader in footwear and accessories needed an overhaul, and they turned to SAP Commerce Cloud to create a true omnichannel platform that could engage customers across in-store and digital channels.
"With SAP Commerce Cloud, the Aldo Group experienced a 20 percent growth in year-over-year sales."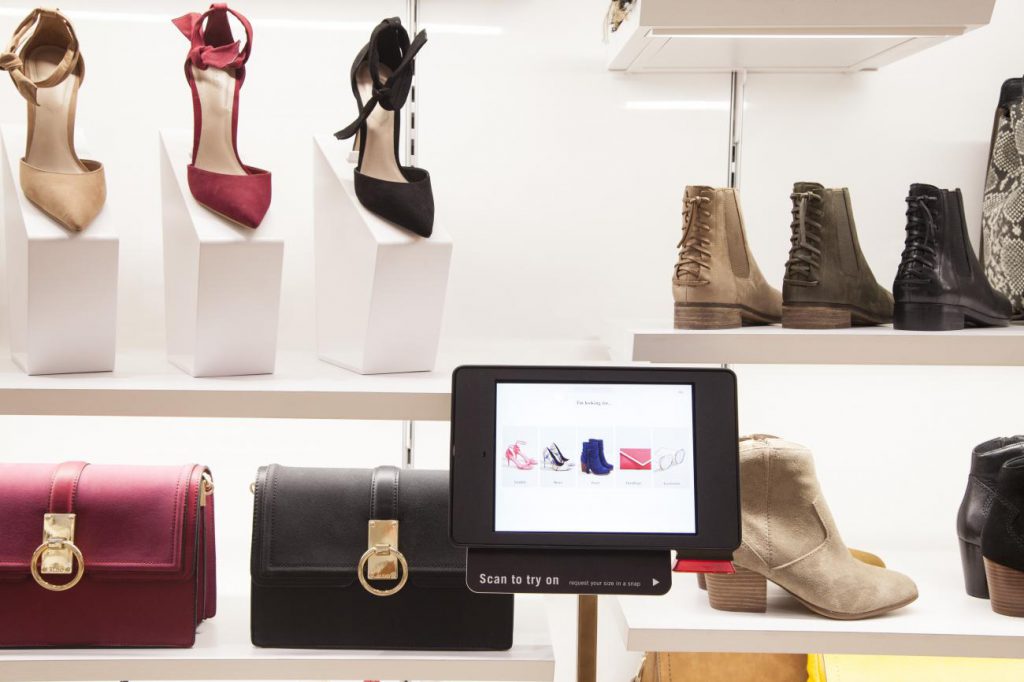 Arezzo experienced a similar problem. They were enjoying a "shoe boom," but with rapid growth came acute growing pains. With four different brands targeting very different markets, SAP Commerce Cloud allowed them to create an online showcase for their brand that drove customers to their stores and increased loyalty. In the first year, they saw a 2 percent increase in profit.
Shortly after they put SAP Commerce Cloud to work, the ALDO Group experienced a 4 percent increase in the number of visitors who came to their company's websites and a 12 percent increase in conversions. Overall, they experienced 20 percent growth in year-over-year sales.
2. Expand globally
In today's global economy, international growth is a priority for fashion brands.
More and more consumers are going online to buy from merchants based in other countries. In fact, according to McKinsey's The State of Fashion 2018 report, upwards of $1 trillion will be spent by global consumers on cross-border ecommerce by 2020.
Creating a global brand involves more than translating your platform and other channels into foreign languages and currencies to prepare for new markets.
No matter how valuable the brand is, the one-size-fits-all model that gives consumers the same experience regardless of their country or location is no longer an option.
And, though your brand is global, it needs to feel like it's a local operation to offer customer experiences tailored to the local audience. This is what happened when British-based merchant Monsoon Accessorize used SAP Commerce Cloud to streamline how they managed their global markets. One of the big advantages they got from SAP Commerce Cloud was the ability to manage all content, merchandising, brands, catalogs, and sites from different countries from a centralized platform.
From here, SAP Commerce Cloud gave Monsoon Accessorize the ability to add tablet and mobile-optimized sites without needing a separate implementation. Basically, this provided the efficiency of having a centralized operation, but in the hands of the user, it felt like they were purchasing from a local company based in their country.
With their new SAP Commerce Cloud platform, conversion increased and they saw consistent growth of over 20 percent year over year. One of their key areas of growth was international markets where they have been growing between 80 and 90 percent.
SAP Commerce Cloud has the ability to synchronize multiple catalogs in multiple languages and locales, and the platform supports multiple languages, currencies, and brands. It is also flexible enough to allow region-specific payment services, address forms, fulfillment processes and tax calculations. Basically, it makes it easy to reach customers and process sales, wherever you are in the world.
3. Offer relevant content
Content might be king, but there's no such thing as a piece of content that's suitable for every consumer. The key issue merchants face isn't merely producing content, but producing content that is personalized for the individual buyer persona at each stage of their shopping journey, a strategy otherwise known as 1:1 personalization.
Research suggests personalized content that provides customers with relevant information and offers at the right time can add 20 percent to the average order. That's a significant boost, akin to having a personalized shopper assist the customer. With such obvious advantages, it's no surprise that McKinsey's The State of Fashion named personalization and curation the #1 trend for the fashion industry in 2018, predicting that "as consumer values coalesce around authenticity and individuality, brands will value data even more to tailor recommendations, engage influencers and personalize experiences. The fashion companies that flourish will re-focus on their strengths."
In addition, a report from Boston Consulting Group showed that apparel retailers who have implemented personalization strategies have seen sales gains of 10 percent or more.
That's a rate that's three times faster than other retailers.
SAP Commerce Cloud has many options to deliver seamless and deeply personalized experiences, including the pre-integrated SAP Marketing Cloud. This powerful platform uses machine learning to help you understand your customer and what pieces of content they would most respond to. It also gives you the ability to render a single piece of content in multiple ways, honing in on multiple variables to truly personalize the experience and guide your customers through the entire lifecycle of their journey.
And, you can update multiple sites with just a click. How's this for simplicity?
But there's more.
How personalization helps with return rates
"Free shipping and free returns" has become a standard for fashion and apparel brands; however, dealing with returns the old way is a "ticking time bomb turning into a major cash hole." Although it's not uncommon for online return rates to be around 30 percent, for the fashion industry the percentage is even more dire, as returns for clothing are often near 40 percent.
That said, research proved that some customer segments have a different propensity to return the items they purchased. For example, Monetate discovered that the most loyal customers are more likely to return items than other segments.

In addition to increased sales, personalization helps ecommerce tackle the problem of high return rates. For example, retailers can use the past purchase history of their customers to automatically recommend the apparel size they should be buying, depending on the fit of the garment. Past purchase history can also be leveraged to avoid offering deep discounts or free shipping to serial returners.
Is SAP Commerce Cloud Right For You?
We could write a book about all the benefits SAP Commerce Cloud offers to fashion retailers. To get you acquainted with these capabilities, Corra's experienced team can actively walk you through the out-of-the-box SAP Commerce Cloud's functionalities that can meet the vast majority of your project requirements. During this demo, we will also upload your imagery and products to the SAP Commerce Cloud instance to show you a realistic portrayal of your final solution.
Moreover, Corra has recently launched Avant, the only SAP Commerce Cloud-qualified accelerator designed to meet the needs of fashion brands. This refined solution reduces both cost and time-to-market of a typical SAP Commerce Cloud implementation by up to 40%, allowing fashion retailers to bypass the need for costly customizations and to invest more budget in strategic business initiatives. From advanced price display to a highly functional product listing page, Avant incorporates the best practices Corra has perfected through years of strategic commerce advice in the fashion industry, while offering flawless code quality, powerful capabilities, and an elegant front-end.
---
Corra is the global digital agency that fashion, beauty, and lifestyle brands trust to create luxury commerce experiences. With headquarters in the key markets of New York, Los Angeles, and London, Corra provides innovative solutions at the intersection of technology, creativity, and strategy.