When it comes to running a business, the internet is a beautiful and terrifying place. It lets us reach more customers quicker and with less of a marketing budget, helps us stay in touch with customers through email marketing and a constant social media presence, and gives even tiny brands the opportunity to go viral with a particularly funny, touching, or interesting ad, tweet, or campaign. But it also lets our customers tell us what they think of us – bad, angry, ugly comments included – in a very public way. Those negative reviews can be the bane of a company's existence. Which is why we wondered: Why do people leave them? What inspires public negativity? And, most importantly, how can we – online brands big and small – fix the problem? Keep reading to learn more.
EXPERIENCES THAT INSPIRE NEGATIVE REVIEWS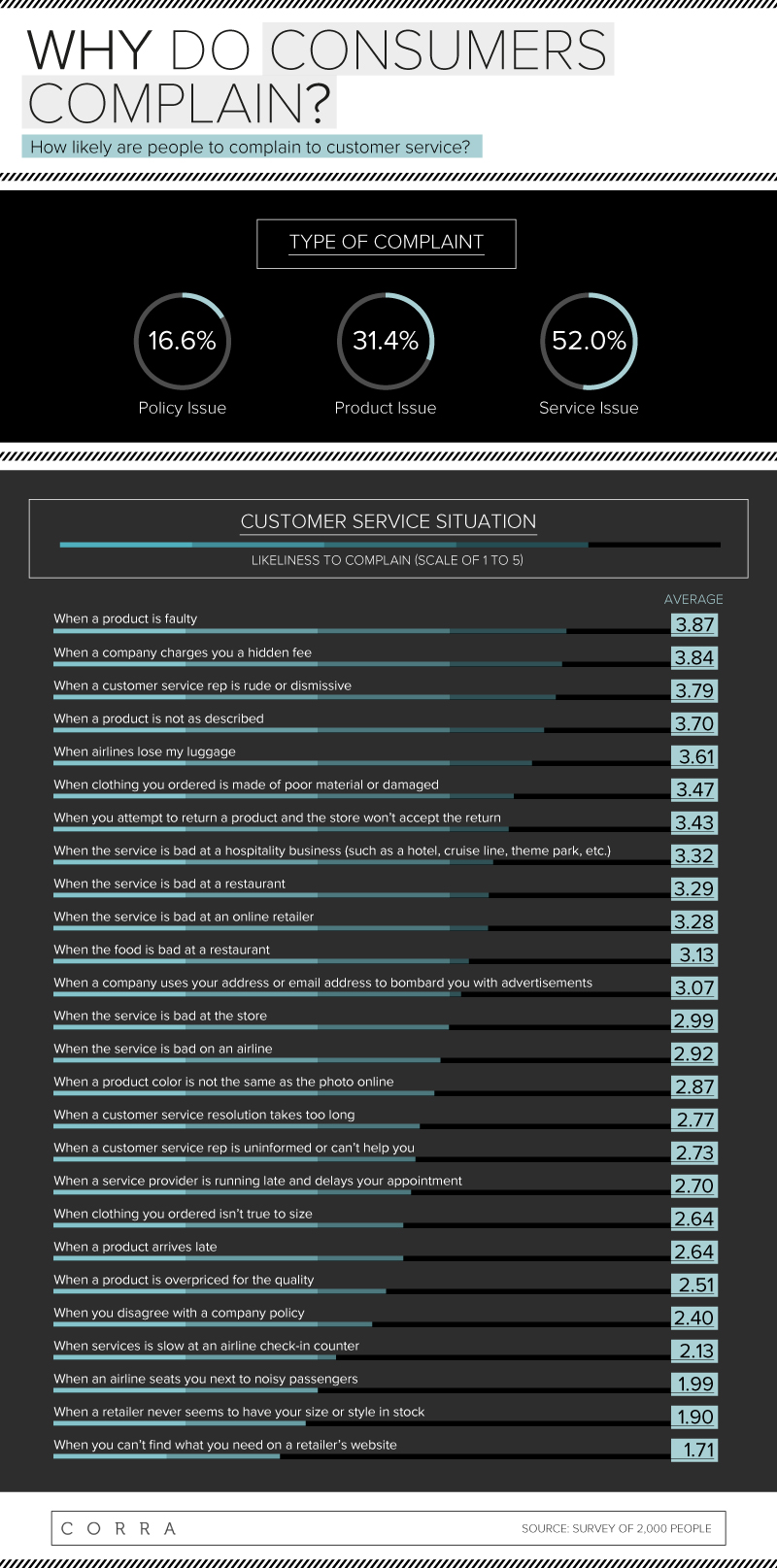 There are plenty of things that can go wrong in a customer interaction – but in the minds of customers, according to the 2,000 surveyed, the worst offense is a customer service mishap. Over half of respondents said they were likely to complain publicly if customer service did a poor job resolving their product or service issue.
The good news here is that with so many people contacting customer service before posting negative reviews, companies have an opportunity to head off the negative feedback before it goes public.
WHAT DO CUSTOMERS WANT?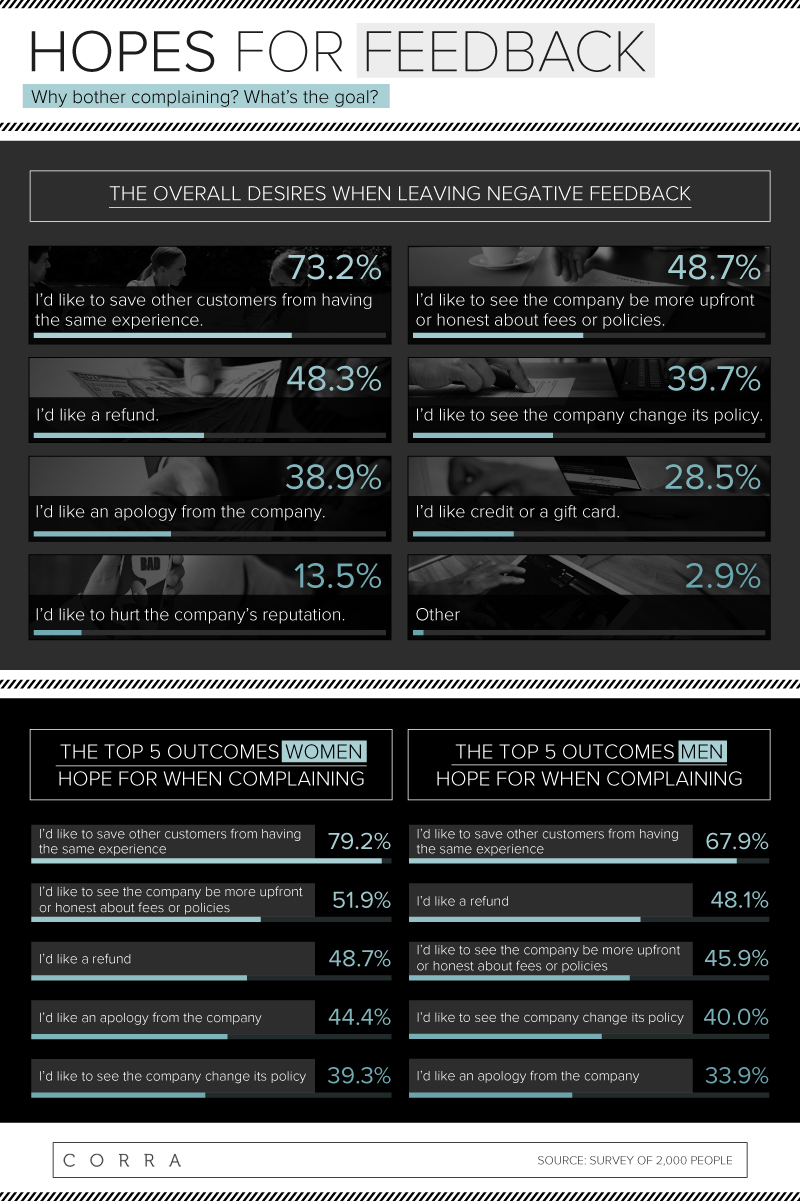 When a customer leaves a negative review, rages at you on Twitter, or writes a scathing blog post, what should you do? To figure it out, we asked our survey respondents what they hoped to accomplish when they complained about a brand. Did they want a refund, an apology, to affect brand policy, or to put that brand out of business?
The top answer is a simple and a rather good-hearted one: Most customers leave negative reviews to save others from having the same experience.
The good news about this answer is that, yet again, customer service can save your reputation. You may not always be able to control a delayed shipment, faulty product, or a bad customer reaction to your business policy, but you can control the responsiveness of your customer service, the department's empathy, and its ability to go the extra mile to fix a problem.
And when you fix the problem? People are likely to remember and mention it in their review. They may even go back and edit a review to reflect their new experience. According to research, 70 percent of people whose customer service complaints are resolved in their favor will do business with you again.
Other common reasons for bad reviews include a desire to see more honesty and forthrightness about fees and policies, to get a refund, and to affect company policy for future transactions. If your customers are primarily female, keep in mind that company honesty is even more important than a refund, and a sincere apology from your customer service staff is more important than a policy change. For a primarily male customer base, the order of importance is reversed.
WHO'S LEAVING THE LONGEST NEGATIVE REVIEWS?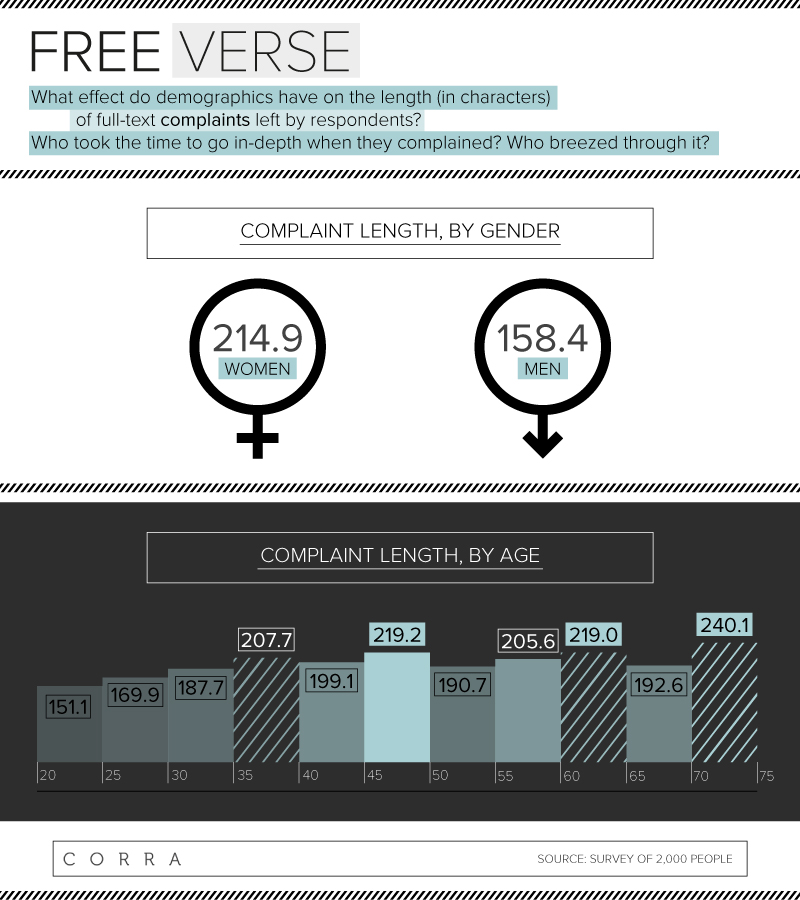 We know that bad customer experiences are terrible for business … but just how bad are they? According to our survey, it takes more than one bad experience to turn consumers off for good.
Which customers are most likely to get fired up and leave you a lengthy negative review? According to our analysis, women's negative reviews tend to run about 30 percent longer than men's, complaints from individuals who have separated are about 20 percent longer than the complaints of single people, and those aged 70 to 75 are almost 50 percent wordier than reviewers aged 20 to 25.
FORGIVE AND FORGET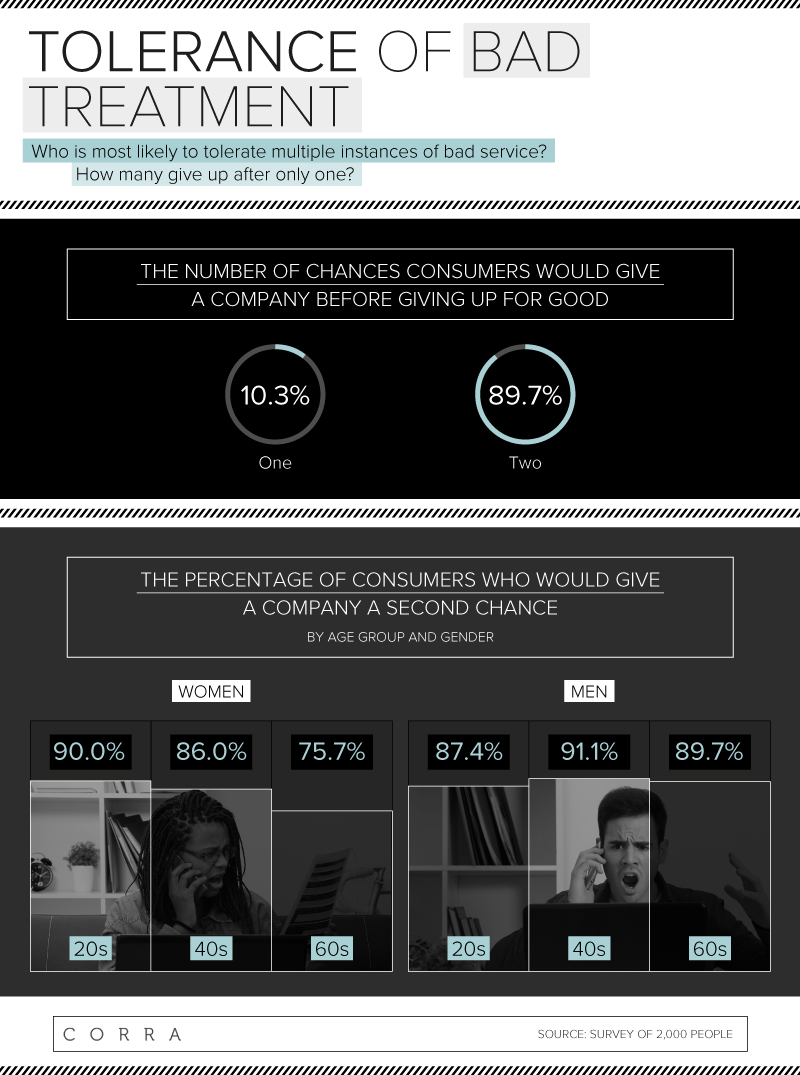 Nearly 90 percent of survey respondents said they'd give a company a second chance before becoming patrons of another business. The most likely group to forgive and forget was men in their 40s. The least likely group? Women in their 60s.
COMPLAINT DIFFERENCES BETWEEN MEN AND WOMEN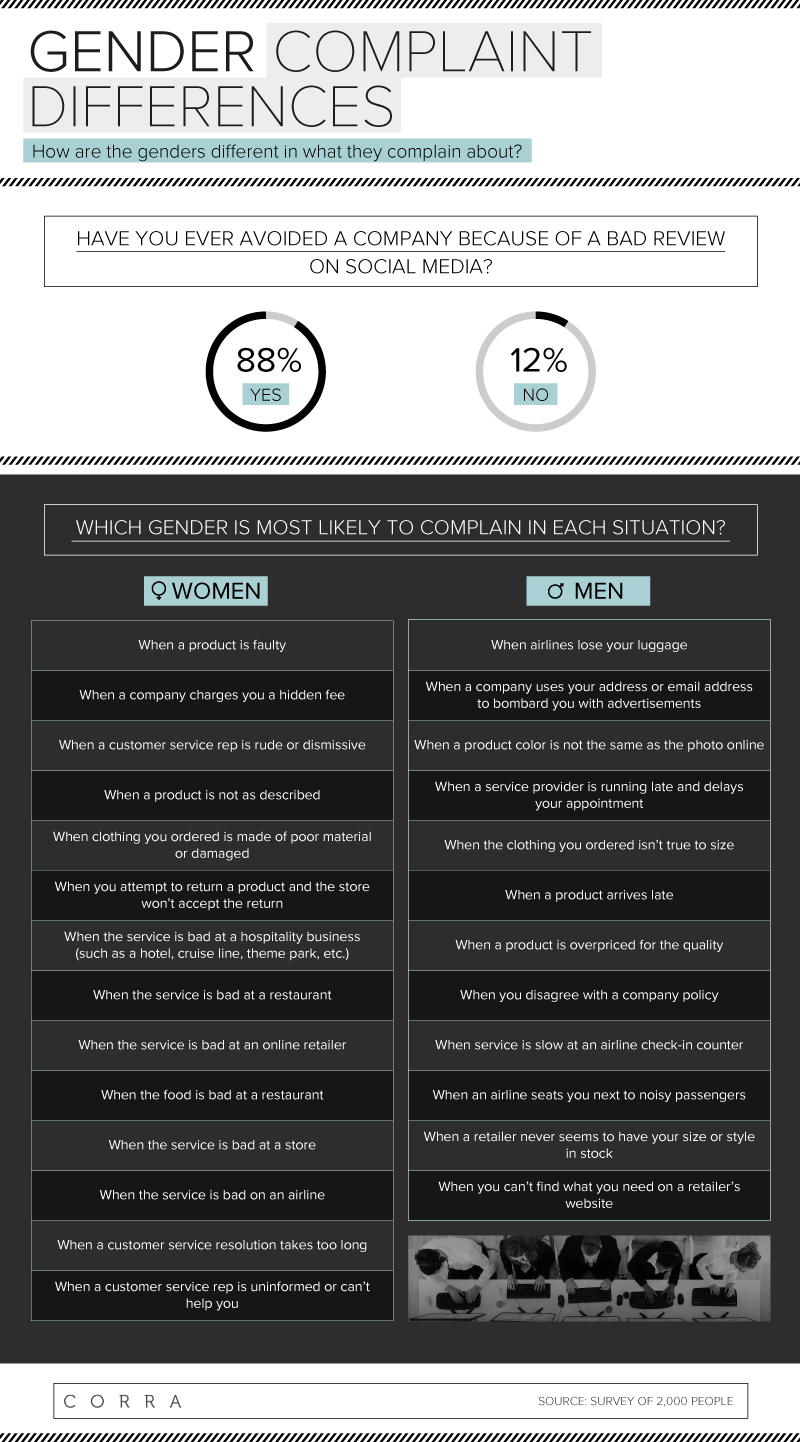 Nearly 88 percent of participants have avoided a company because of a bad review on social media. So, who's writing these negative reviews, and which issues frustrate women more than men or vice versa? We split our data by gender and found women were slightly more likely than men to lodge a public complaint. Women also tended to remember their bad customer service experiences.
WHERE CUSTOMERS COMPLAIN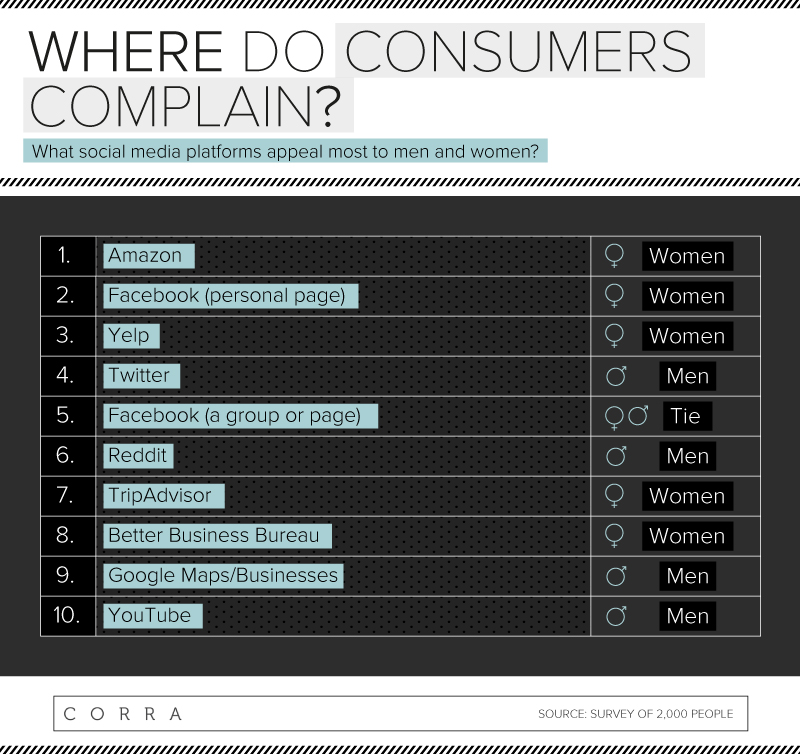 Customers are most likely to complain online after a bad customer service interaction. Women hold a business grudge longer than men. And everybody uses online reviews to make real buying decisions. So, where are customers likeliest to lodge their complaints?
For women, the answer was Amazon, Facebook (their personal page), Yelp, TripAdvisor, and the Better Business Bureau, while men were more likely to take to Twitter, YouTube, Google Maps and Businesses, and Reddit. Both genders were equally likely to post in a Facebook group or on a relevant Facebook page.
The good news here is that most of these platforms allow businesses to publicly apologize, make things right, and even give their side of the story.
INDUSTRIES WITH UNHAPPY CUSTOMERS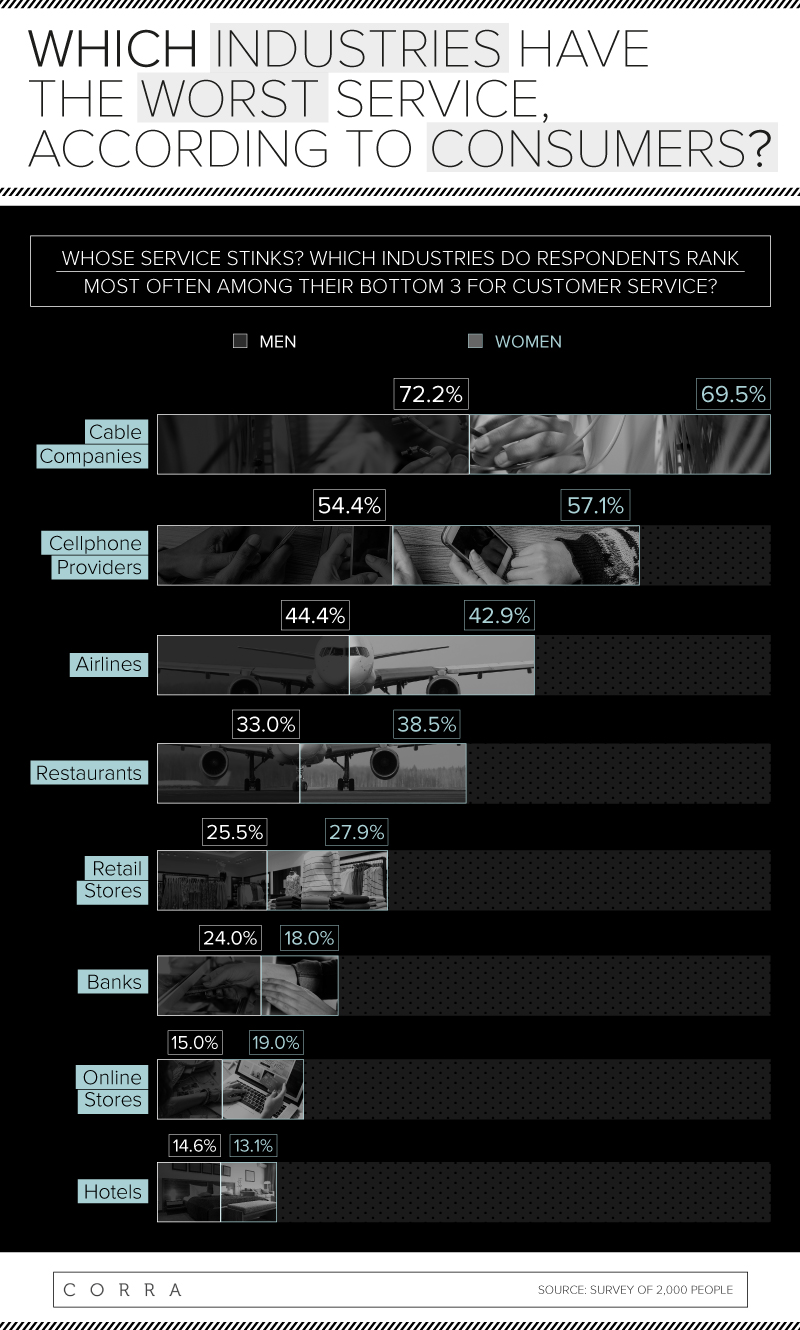 Finally, we asked survey respondents to tell us the industries they've most had trouble with when it comes to customer service. Who's not living up to expectations?
The most common answer, by far, for men and women was cable companies, followed by cellphone providers, airlines, and restaurants – a fact that may come as no surprise to those who have seen recent research on cable company satisfaction.
HOW TO KEEP (OR FIX) YOUR REPUTATION
According to our survey, bad reviews are serious and should be handled with care – but they aren't the kiss of death. Negative feedback is inevitable, particularly for product-driven businesses. To avoid negative feedback and recover when it does happen, take a few lessons from our playbook:
When someone calls customer service, make sure they feel heard and valued.
Leverage a customer service tool to track tickets and ensure response times are quick. If you do not have the staff to support appropriate follow-up, consider outsourcing this service to an organization that can offer the scale you need.
Ensure your ecommerce site offers the ability to submit requests and feedback that link directly to your customer service tool; this will reduce friction for shoppers.
Make sure your return policies are clearly stated and return requests can be easily initiated within the Account portal on your website. Since many complaints can be solved via a return, this can reduce the impact of the issue and encourage your customer to come back to you.
Make the situation right whenever possible, even if it costs you money. Seventy percent of the people for whom you make things right will do business with you again. Don't forget to ask for a second chance; customers are likely to give it to you.
Respond to negative reviews publicly; show other customers you're listening.
Remember, customers like to provide positive feedback too! Provide customer review options within your product pages and as a follow-up call to action. There are many tools that will allow you to organize reviews, respond to reviews, and even post reviews within your website for further client engagement.
Use customer feedback to make real business changes. Leveraging your customer's voice to drive your business forward will bring your brand closer to a more caring customer community.
Want to learn more about solutions for your fashion, beauty, or lifestyle-brand ecommerce site? Head over to Corra.com to learn more about the solutions we can provide for your business.
METHODOLOGY
We surveyed 2,000 Americans to discover how and why they write negative business reviews.
FAIR USE STATEMENT
Would you like to share this information with your own readers? You may use the content on this page for noncommercial use, but please remember to link back to this page so that the authors receive credit. It's the polite thing to do.